---
If you're in a rush – and just want to know if I recommend the Traeger Pro Series 34 – the answer is a resounding YES.
---
Traeger pioneered the idea of grilling with wood pellets, and went on to invent the very first pellet grill! Today, Traeger is still leading the way when it comes to wood pellet grills & smokers. So, if you're looking to buy a pellet grill, you really can't go wrong with a Traeger grill. One of their best-selling products is the Traeger Pro Series 34. In the review below I'll tell you why I love it, and why thousands love it too!
What Is The Traeger Pro Series 34?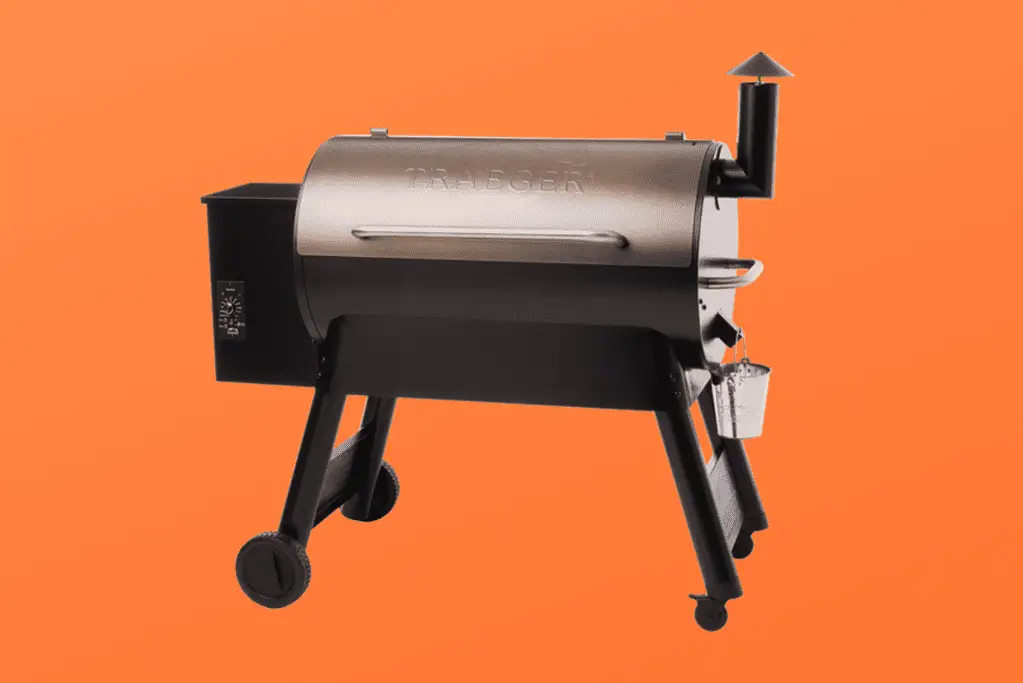 The Pro Series 34 has a vast cooking space of 884 square inches across two racks. It has the largest cooking surface of the Traeger Pro Series. As a result, you have tons of room to cook.
All Traeger grills cook with wooden pellets, giving the food tons of flavor. Specifically, the pellet hopper can contain up to 18 pounds. At full capacity, this allows you to cook for an impressive 20 hours.
This grill is designed to have precise temperature control. This allows you to adapt your cooking technique. You can either slow cook the grill's contents to ensure a tender texture. On the other hand, if you are desperate for food, you can opt for a high temperature.
Traeger Pro Series 34 Review
There are lots of different elements of the Traeger grill to consider. As a result, this review will evaluate some of the main features of this model.
Features
Large Cooking Space
As mentioned above, the Pro Series 34 has a cooking space of 884 square inches. This gives you lots of space to cook food. This feature is ideal for hosting parties and barbeques since you will have sufficient space to cook for large groups of people.
This is also a fantastic feature for large families. This is enough space to feed approximately 10 adults. I appreciate the fact that two cooking racks have been included. Not only does this increase the amount of space that you have, but it also allows the user to better organize their cooking. For example, you could grill meat on one rack and vegetarian options on the other.
Ease Of Use
From my experience, the Traeger Pro Series 34 is quite simple to use. Even if you have not used a pellet grill before, the controls are quite intuitive.
One of the features that stands out is how versatile this grill is. It can be used to cook food in a variety of styles, such as baking, roasting, and barbecuing. This allows you to prepare a broad spectrum of scrumptious food.
In terms of cleaning, the Traeger is relatively straightforward to disassemble and clean. The cooking grates can be removed easily, along with the drip tray and the heat shield. The grease trap hangs conveniently on the outside of the grill. All of these features make the Traeger Pro Series 34 quite simple to clean. Thus, you won't have to worry about grease building up, which is a problem with other grill brands.
Another feature that adds to the grill's ease of use is the presence of wheels. This permits the user to move the grill, making it more portable. These wheels are all-terrain, allowing this grill to be placed on a variety of different outdoor surfaces such as decks, patios, or even your lawn.
Outstanding Durability
It is important to find a grill that is made from sturdy materials. After all, the device will need to withstand harsh weather conditions. Though you should always store your grill away from the elements when possible, it will nonetheless need to survive in various weather conditions.
Luckily, the durability of this Traeger product is outstanding. This is in part due to the strong materials used to construct it. For instance, heavy gauge steel has been utilized. Moreover, the grill has been given a powder-coated finish. This coating is specifically designed to improve weather resistance.
The grill grates are also suitably durable, having been coated with ceramic. This not only makes the grill grates more durable but also less sticky and easier to clean.
Dual Meat Probes
A meat probe is a device that sticks into your meat during cooking and enables you to check the internal temperatures of meat.
The Traeger Pro Series 34 product comes with two probes. This is a magnificent feature, as it helps to prevent food poisoning and consuming undercooked foods. These probes are super convenient and simple to use. From my personal experience with Traeger products, they deliver accurate results.
They are even quite simple to calibrate.
Pellet Hopper
To me, pellet cooking is unquestionably superior to other grilling techniques, such as charcoal. This is partly because of the unique level of flavor that you can get from pellets.
The hopper on this model is amazing, being able to hold 18 pounds of pellets. Since this gives you hours of cooking time, this feature will prove useful for people who do not want to refill the hopper regularly.
A wide range of wood pellets can be used in the Traeger Pro Series 34, giving you the opportunity to experiment with tastes. Traeger provides a variety of wooden pellets, so be sure to check these out.
The cleanout feature allows you to conveniently empty the hopper. This feature can even be used in the middle of cooking, to feed a different type of pellet into the grill for added flavor. We appreciate this, as it means that you won't have to stop cooking to empty the pellet hopper.
Fantastic Temperature Control
The grill's temperature can easily be controlled via a dial. This lets the user set a range of different temperatures, so you can find one that is suitable for you. Thanks to the presence of pellets, the Traeger grill delivers consistent temperatures. These temperatures are made even more consistent by brilliant temperature control.
Easy Assembly
One of the downsides is that, like many pellet grills, it needs to be assembled. This may be disappointing to some customers, as some grills can be really hard to put together. With some brands and models, you will need to spend hours trying to figure out the instructions and putting together a complex grill.
Fortunately, the construction of this Traeger model is manageable. It should take no longer than 60 minutes to fully assemble. Thus, while it might be pretty frustrating to assemble a grill, we respect the easy assembly process.
Price
Traeger grills tend to be more expensive than other brands. This is because you are essentially paying for brand recognition. The Traeger name guarantees that a product is of amazing quality.
The Traeger Pro Series 34 is no different. Its price tag is rather high, which might be off-putting to less serious grill users. However, if you use a grill regularly, then the price tag is certainly worth it.
Pros & Cons
To help clarify our thoughts on this product, we have created a convenient list of pros and cons.
Pros
Cons
Is The Traeger Pro Series 34 Worth It?
In my opinion, the Traeger Pro Series 34 is worth it. It is a brilliant product with many useful features designed to improve the user experience. It is arguably one of the best pellet grills on the market, hence why it has become so popular.
Of course, you will need to make your own mind up about whether or not this grill is worth it. You will need to consider whether the price is worth it based on how much use you will get out of the grill and by weighing up all of its features.
Hopefully, this review will have helped you to make up your mind. To us, it is certainly worth getting this grill if you are looking for a premium and versatile outdoor grill.
Where To Buy The Traeger Pro Series 34?
If our review has convinced you to order one of these products, there are a few different places from which you can order one.
This includes:
Final Thoughts
The world of outdoor pellet grills is increasingly expanding. As a result, this means that many products can be found on the market. As one of the first pellet grill brands, Traeger is still one of the best names in the industry. In our opinion, their products are still worth it. While there are some disadvantages that you should be aware of, the Traeger Pro Series 34 is a sensational pellet grill.
You Might Also Like…