If you are looking to invest in a Traeger, you might want to know if they are worth the hefty price tag. Traeger grills tend to retail at a premium compared to competing brands, which has many prospective buyers wondering if they are worth it.
Here's my 100% biased opinion:
While Traeger grills are relatively pricey compared to competing brands, they certainly have much to offer. Since Joe Traeger founded the company in 1987, Traeger has become synonymous with pellet grills and has become the world's no.1 wood-fired grill manufacturer. The main reasons Traeger grills are a great investment are pioneering design & features, outstanding build quality, best-in-class warranty, versatility, ease of use, passionate community, and outstanding customer service. They're also an eye-catching piece of backyard kit that never fails to start conversations with friends and family. Call me biased (I own a Traeger and absolutely love it), but I genuinely think Traeger grills are worth it.
So, whether you're an experienced griller looking to upgrade your setup or a novice just starting out, read on to discover why a Traeger grill might be the perfect choice for you.
Table of Contents
Why Is A Traeger Grill Worth It?
The old saying goes: "You get what you pay for."
Here's why I think Traeger grills are definitely worth it.
Pioneering Design & Features
Traeger stands out for its pioneer mindset. They invented the first-ever wood pellet grill and have been researching ways to improve the grilling experience. These innovations and useful features are then implemented into their products.
Other brands have often copied Traeger but seldom equaled them. So, what would you rather buy: the copy or the original? With this in mind, let's look at some of these innovative features in more detail.
DC Powered Motors
Standard domestic electrical outlets use AC power. However, the Traeger converts AC power to DC power to run its DC-powered brushless motors.
These high-precision electric motors power the fan and augur and offer extra control compared to traditional AC motors. Moreover, the absence of brushes means that the motors are more durable and reliable and will keep your grill in service for longer.
This enhanced capability allows the Traeger to have more precise control over its temperature (it is connected to the fan), which is great for its users. So, while these motors are more expensive to manufacture, they create an even better and more precise Traeger grill for the end user. 
WiFi Enabled
Whilst this isn't something everybody needs, it is always a handy feature. The WiFi technology – branded WiFIRE by Traeger – basically means that you can control the Traeger grill via the Traeger app on your smartphone.
So, it's just like using a TV controller. You can start the grill remotely, set the temperature and even the cooking time, and monitor the temperature of your grill and the internal temperature of your food, via the very practical food probe included.
Outstanding Build Quality
If you find that you love to grill outdoors all year round, no matter the season, then buying a cheaper wood pellet grill might not be the best thing to do.
Not only might it lack quality (it may feel rough around the edges), but it isn't going to stand the test of time. And it might even struggle once the weather becomes colder.
In general, cheap alternatives to Traeger grills may not be able to keep up when put through a high volume of grilling. So, skimping on a pellet grill that you will be putting through hard work a few times a month is not a good idea in the long term.
Want to learn more about Traeger durability? Check out: How Long Do Traeger Grills Last?
Best-In-Class Warranty
Traeger offers a whopping 7-year limited warranty for its non-connected and WiFIRE-enabled models produced since October 2021 and an incredible 10-year warranty for its premium Timberline and Ironwood models.
These warranty lengths blow the competition out of the water and illustrate the confidence Traeger has in the quality of its materials and manufacturing.
Versatility
Not only that, a Traeger is a very versatile unit that can cook with up to six different cooking methods (grill, smoke, bake, roast, braise, and bbq). This negates the need for buying separate appliances, which in turn can save you money. Most cheap units may not have this available.
Ease of Use
When it comes to ease of use, Traeger grills are hard to beat compared to other pellet grills on the market.
With their user-friendly digital controllers, setting the temperature is a breeze, and the pellets are automatically fed into the firepot. This means that you can set it and forget it, without worrying about constantly monitoring the temperature or adding more fuel.
Additionally, Traeger grills are easy to clean thanks to their drip tray system, making maintenance a hassle-free experience.
Traeger grills are a great option for those looking for a convenient and user-friendly pellet grill.
Passionate Community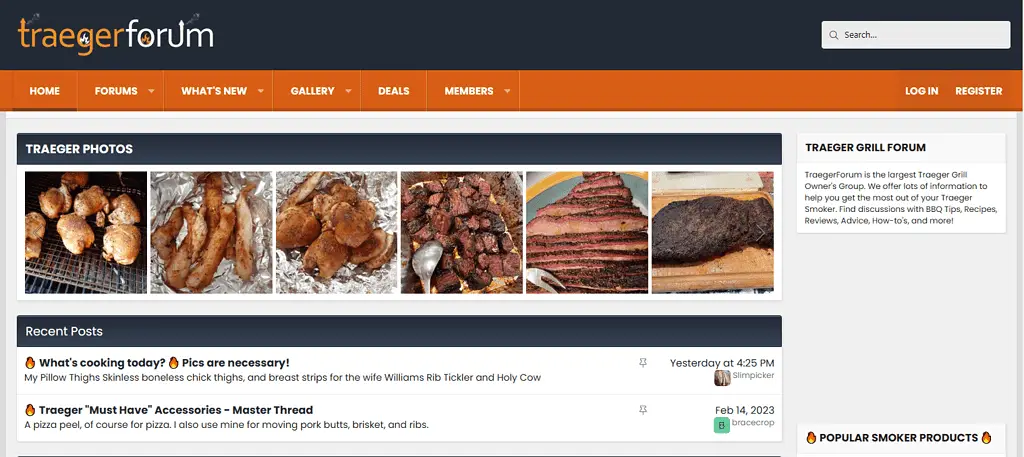 One of the great things about Traeger grills is their passionate community of users.
Whether you're a seasoned pro or just getting started, a wealth of knowledge and support is available to help you get the most out of your grill. From online forums (such as the Traeger Forum) and social media groups to local meetups and events, Traeger enthusiasts are always eager to share tips, recipes, and techniques.
This sense of community can be especially beneficial for someone who's new to pellet grilling or still on the fence about whether a Traeger is right for them. With so many experienced users willing to help, it's easy to get inspired and confident enough to take the plunge and start grilling with Traeger.
Outstanding Customer Service
Another reason why Traegers are well worth the money is their commitment to helping customers get the most out of their grills.
Traeger has a team of customer service experts available to answer any questions you may have about your grill, from assembly to maintenance and beyond.
Their website is filled with helpful tips and tricks, and they also offer cooking classes and recipe ideas to help you get started. If you ever encounter any issues with your grill, Traeger's customer service team is known for being responsive and helpful in finding a solution.
With Traeger, you can feel confident that you have the support you need to become a master griller.
My Favorite Traeger Grill
Why Are Traeger Grills So Expensive?
Traeger grills are considered to be some of the best on the market. With their pioneering design, WiFi-enabled technology, and outstanding build quality, it's easy to see why.
However, all these features and innovations come at a cost, which begs the question: why are Traeger grills so expensive? The answer lies in the attention to detail and quality materials used to produce each grill. From the high-precision DC-powered motors that offer precise temperature control to the drip tray system that makes cleaning a breeze, every aspect of the Traeger grill is designed with the end user in mind. Additionally, Traeger offers one of the best warranties in the industry, which is a testament to their confidence in the quality of their materials and manufacturing.
While Traeger grills may come with a higher price tag than some of their competitors, their quality, versatility, and ease of use make them well worth the investment for anyone who loves to grill. Indeed, it's essential to make the distinction between price and value.
Something cheap may be of very little value if the quality and user experience are poor. On the other hand, a high ticket item may seem like outstanding value if it delights its users and exceeds expectations. When seen through this lens, Traeger prices are fair and reasonable.
Why Choose a Traeger Grill Over Other Brands?
Traeger grills are a top choice among grill enthusiasts for several reasons.
One of the main reasons is their superior pellet grilling technology for an authentic wood-fired flavor. Traeger grills also offer a wide range of temperature settings, making it easy to grill, smoke, bake, roast, braise, and BBQ all types of meat and vegetables to perfection. Additionally, Traeger grills are made with high-quality materials and come with features like easy-to-use digital controls, large cooking surfaces, and sturdy construction. With a Traeger grill, you can enjoy the convenience of a gas grill while still achieving the rich, smoky flavor that only comes from cooking with wood.
Whether you're a seasoned pro or a beginner, Traeger grills are a reliable and versatile choice for anyone who loves to grill and smoke their favorite foods.
And besides, would you rather own the original or the many copies that have tried to emulate Traeger without ever succeeding in replicating their products?
My Final Thoughts
Traeger grills offer a unique grilling experience that sets them apart from other brands. With their easy-to-use digital controls, versatile cooking capabilities, and high-quality construction, Traeger grills make grilling more convenient and enjoyable than ever before.
While they may come with a higher price tag than some other grills on the market, the investment is well worth it for those passionate about grilling and wanting the best possible results. Whether you're a seasoned grill master or a novice looking to improve your cooking skills, a Traeger grill is an excellent choice that is sure to impress.