---
If you're in a rush – and just want to know if I recommend the Traeger Century 885 – the answer is YES, BUT be aware that it's a Costco-exclusive model. So, if the model is out of stock on Costco's website, or you don't have a Costco store near you, you may want to consider an alternative model such as the Traeger Ironwood 885.
---
Traeger is renowned for its high-quality wood pellet grills. The Century 885 wood pellet grill has lots going for it and has become quite popular. This grill is limited to Costco however, which sells several Traeger grills exclusively manufactured for the retailer.
If you are considering purchasing a Traeger Century 885 grill, you're probably researching the specifications, features, pros & cons, and whether or not it is worth it. Hopefully, this review will help you make your decision.
What Is The Traeger Century 885?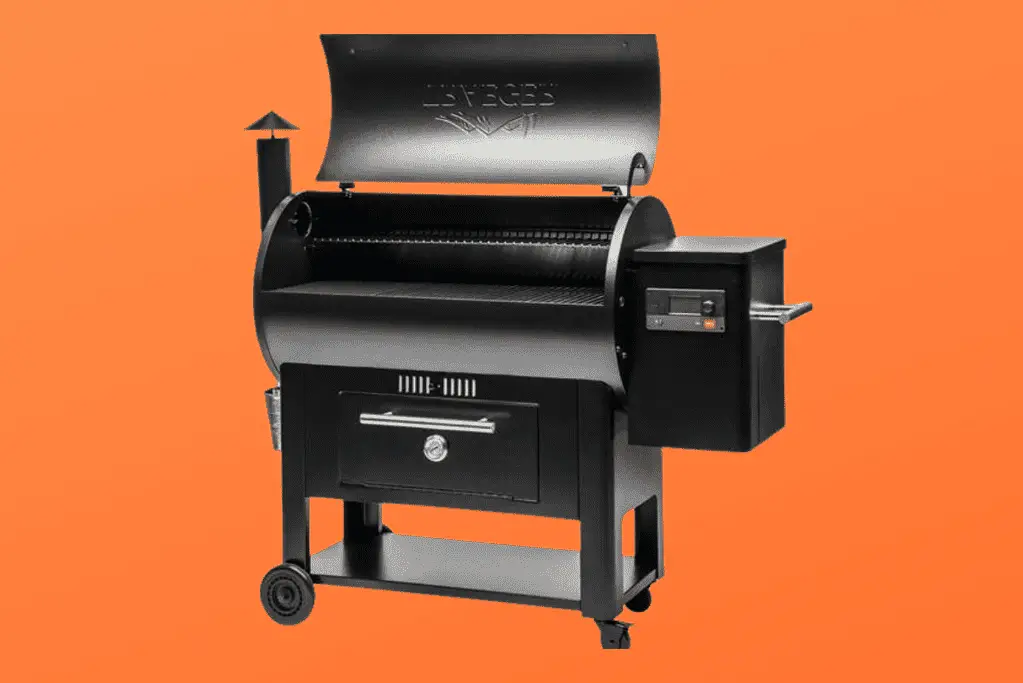 The Century 885 is one of Traeger's upper mid-range models. Its WiFIRE feature, large 885 sq. inch cooking area, traditional looks, and solid build quality make it one of the most appealing models within the Traeger range, and in the wider market.
A point worth noting is that the Century 885 can only be purchased at Costco. Like the Silverton 810 wood pellet grill, it's a Costco exclusive. So, you won't find it on Amazon or on Traeger's own website. If Costco isn't an option for you and you'd like an alternative, check out the Traeger Ironwood 885. It's strikingly similar in terms of looks and features, and shouldn't disappoint you.
Traeger Century 885 Grill Review
The Century 885 has lots of desirable qualities which will appeal to even the more advanced grilling enthusiasts. What are these features and are they any good? To determine whether or not the Traeger Century 885 is a good product, I have outlined some of the main qualities below.
Features
WiFIRE Technology
Few other grills offer such a broad range of features designed to improve the user experience. Perhaps the most important feature is the WiFIRE connectivity.
This cleverly named feature allows you to connect to Wi-Fi. Thus, you can control your grill from afar. Moreover, you can set up custom cooking cycles. From personal experience, this feature works quite well and is very simple to use.
Since few other grills offer such a strong level of remote connectivity, this is a feature that sets Traeger apart from other brands.
Cooking Space
When you buy a grill, you will want a product with a large cooking capacity. The bigger the capacity, the more food you can cook at one time. This is particularly important if you wish to cook for large crowds, such as if you intend to host parties.
Luckily, the Traeger century has a large cooking space of 885 square inches. Hence, why this grill is known as the Century 885. With two grill grates, there are acres of room for you to cook. This is truly impressive, as few grills offer such a large capacity.
In fact, you can cook 10 chickens, 9 pork butts, or 7 rib racks at once when using this product. Therefore, if you plan to cook for a large family or regularly host parties, this grill is a perfect choice.
6-In-1
The Traeger Century 885 is a 6-in-1 grill. This gives the product incredible versatility, allowing you to cook in a variety of styles. Namely, you can bake, grill, BBQ, smoke, roast, and braise. To me, this is an incredible feature.
It allows you to get even more bang for your buck and mix things up. And, once you've mastered simply grilling with your Century 885, you can begin to experiment with other cooking styles.
Finally, while a lot of pellet grills give you the ability to try other cooking styles, few can offer such a wide range.
Hopper Capacity
If you have a large cooking space, a decent hopper capacity will be required. Otherwise, the wood pellets will burn out quickly and you'll need to top up more frequently.
The Century 885 has a hopper capacity of 20 lbs, which corresponds to a full standard 20 lbs bag of wood pellets. This is fairly standard for grills of this size, and whilst not at the upper end of the spectrum, the hopper capacity should keep you grilling for well in excess of 15H.
One of the benefits of using a Traeger is that the brand offers a broad range of pellets. These wood pellets come in different flavors, which will enhance the taste of the food.
Traeger Meat Probe
Another feature to consider is the included food probe. While lots of outdoor grills have this feature, not all of them do. This probe allows you to check the internal temperature of food, ensuring that it has been safely cooked.
This is particularly important when cooking meat such as pork or poultry, which many grill users do frequently. This feature not only keeps you safe, but it gives you accurate results.
Temperature Control
Thanks to the D2 Direct Drive, the grill is capable of reaching high temperatures quickly. This is a convenient feature because you won't have to wait for ages to start cooking, unlike many other grills.
With a top temperature of 500° F, this grill has an impressive range of temperatures. Consequently, you can cook at whatever temperature you want. Whether you want a low temperature to ensure that the meat is tender or opt for a high temperature to sear a steak, this grill makes it all possible.
Durability
Sturdiness is important when it comes to pellet grills. After all, they have to survive outdoor weather conditions. So, if you invest in a grill with limited sturdiness, your product will break after limited use.
Fortunately, the Traeger Century 885 is a fairly durable product. It has proven capable of surviving in harsh conditions. This is quite a bulky grill made with quality materials, and weighs in at 175 lbs.
Ease Of Use
Most people find the Traeger grill to be quite simple to use. The instructions are clear and the controls on the device are quite self-explanatory, even if you have never used a pellet grill before.
On the other hand, the product can be quite troublesome to assemble. The assembly instructions are not overly clear. And, many of the pieces are quite heavy, so you might need help to put this grill together.
As most people have never built a grill before (it's really not the type of thing anybody does that frequently), I've seen and read quite a few complaints about the assembly of the unit. So, if you're really not the DIY type and you're on your own, you might struggle.
Price
One of the main downsides of the grill is that it is quite expensive. This is to be expected given the high quality of the grill and the advanced features that it offers.
Consequently, I consider the grill to be worth the relatively high cost. In fairness to Traeger, certain grills from other manufacturers with inferior build quality and fewer features can be even more expensive.
As a result, you should consider this product to be an investment. If you are looking for a budget-friendly option, perhaps the Traeger Century 885 is not for you.
Pros & Cons
To help break down our thoughts on the Traeger Century 885, we have created a useful list of pros and cons.
Pros
An impressive 885 square inches of cooking space.
2 cooking racks.
Wi-FIRE feature, giving the user remote access and increased control.
Fairly durable construction.
Meat probe included.
A good hopper capacity of 20lb.
Heats up quickly thanks to the D2 Direct Drive.
Maximum temperature of 500° F.
Cons
Limited availability, either only being available from the Traeger website or Costco.
Quite expensive, so not suitable for those who want an affordable grill.
Assembly is a chore.
Is The Traeger Century 885 Worth It?
To me, the Traeger Century 885 is worth it. Though the price point is on the high end, I think that it is justified due to the wide array of features, that few other grills offer.
The cooking space of 885 square inches is perhaps the main selling point of this grill. It is rare for other grills to provide such a large cooking space. This Traeger grill is therefore ideal for large families.
Of course, the question of whether these grills are worth it is something that only you can answer. This is quite a sizable investment, so you should seriously think about whether or not you are willing to pay close to $1400 for it.
If I've done a good job, this review will have enabled you to make up your mind.
Where To Buy The Traeger Century 885?
As explained above, the Traeger Century 885 is a Costco-exclusive model. You can only buy it online at Costco.com or indeed in-store, at a local Costco branch.
If you're looking for an alternative, available at Amazon or on the Traeger website, check out the Ironwood 885.
Conclusion
Ultimately, the Traeger Century 885 is one of the most impressive wood pellet grills on the market. The majority of its features are exceptional. And the Traeger seal of quality means that you're getting a best-in-class product.
Yet, the 4 figure price point means that it's a substantial investment. A grill such as this one is only really worth it if you plan on using your grill frequently and toying around with it to get the most out of all its features.
If you're new to grilling and don't want to break the bank, I'd recommend checking out the Traeger Pro Series 34. It doesn't have WiFIRE Technology and the cooking area is smaller, but it's Traeger quality at half the price and would provide a great introduction to wood pellet grilling without breaking the bank.
Frequently Asked Questions
What Is the Difference Between the Ironwood 885 and The Century 885?
The Ironwood 885 and the Century 885 appear to be remarkably similar. The cooking area on both models is 885 square inches, which also explains why the names of both models are similar. The Century 885 is a Costco-exclusive model, whereas the Ironwood 885 is not. Apart from that, the grills have almost identical features, such as the WiFIRE Technology, meat probe, 20 lbs hopper capacity, and traditional black powder-coated body. Finally, even the prices are in line with each other, and both the Ironwood 885 and Century 885 will cost you in the region of $1400.
Are Traeger Grills Any Good?
Traeger grills are perhaps the best wood pellet grills your money can buy. Alongside Pit Boss, Traeger is one of the best-known brands for pellet grills. In fact, Traeger invented wood pellet grills. For several decades, the company has cultivated this respect by consistently innovating and manufacturing amazing grills that delight its customers. Traeger grills provide innovative features, such as the WiFIRE connection on numerous grill models. So, if you're looking to buy a wood pellet grill, you can't go wrong with a Traeger.