---
If you're in a rush – and just want to know if I recommend the Traeger Silverton 810 – the answer is YES, BUT be aware that it's a Costco-exclusive model. So, if the model is out of stock on Costco's website, or you don't have a Costco store near you, you may want to consider an alternative model such as the Traeger Ironwood 885.
---
Traeger is one of the best brands on the market when it comes to wood pellet grills. So, it will come as no surprise that one of the best-selling grills in the country is one of their products. I'm speaking of course about the Traeger Silverton 810. In light of its popularity, this grill is worthy of a review – so here it is.
Buying a pellet grill is a pretty big investment for anybody. You'll want to make sure it's the right fit for your needs before you splash your cash on one of these. In this review, I'll cover everything you need to know about the Silverton 810 and help you decide whether it's right for you.
What Is The Traeger Silverton 810?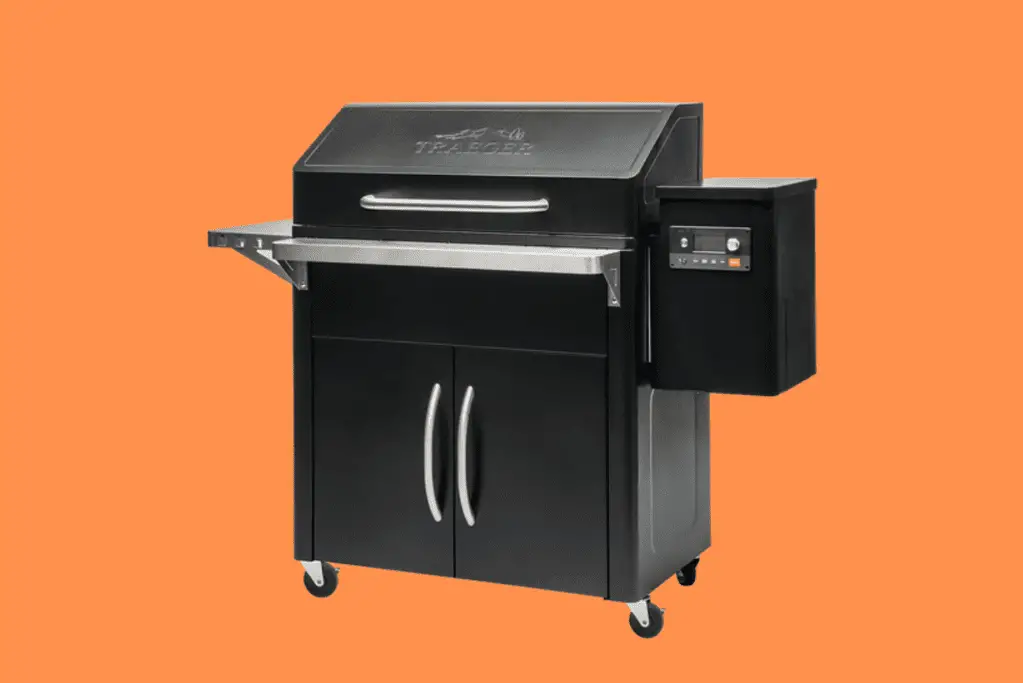 The Traeger Silverton 810 is one of the manufacturer's more premium models. Its advanced features, large capacity, sleek looks and build quality make it one of the most appealing models within the Traeger range, and in the wider market.
However, the Silverton 810 is a Costco-exclusive model. That's right, it's only available for purchase from the retailer, and you won't find it on Amazon or on Traeger's own website. This means that availability is limited, and if the model is all sold out on Costco's website, or you don't have a store near you, you'll have to pass on it. The good news is there are many other, more-widely available models in the Traeger lineup.
Traeger Silverton 810 Review
Let's start things off by taking a look at what Silverton 810 features make it stand out from other Traeger grills and grills from other bands.
Features
Perhaps Traeger's biggest innovation in grilling technology is WiFIRE, which gives the user a great deal of control over their grill through the Traeger app. All you need is a smartphone to set it up and you can even use it with a smart home device.
Through your smart device, you can then control everything on your grill, including temperatures, timings, and even turning it on and off. That means you don't have to constantly be watching your grill the whole time you're cooking. Feel free to sit on the couch and watch TV for a while, waiting for the food to be ready!
In fact, the Traeger app on its own is still a pretty worthwhile download even if you don't make use of the WiFIRE technology that comes with this grill. It gives you hundreds of recipes to browse and choose from if you're stuck for ideas on what to cook.
6-In-1 Versatility
As crazy as it sounds, this grill theoretically supports 6 different kinds of cooking with a single device! With just this one grill, you can grill, smoke, bake, roast, braise, and BBQ your food. This is great for the high-quality outdoor chef who likes to create entire meals with their grill, rather than just slapping some meat onto it.
Thanks to the versatility of this grill, you can grill your meat in one section while simultaneously cooking a wide variety of sides.
Digital Meat Probe
It should come as no surprise to most avid grillers that this machine comes with its own digital meat probe thermometer. This is the sort of device that every good outdoor cook should have because it gives you a very precise reading of how well your food is cooking.
However, instead of having to buy one separately, this grill comes with one as part of the package! It's not exactly a unique feature of this grill but it is something you'll be thankful for if you're setting up a whole new grilling station at home.
Traeger D2 Direct Drive
This is another one of Traeger's own patented technologies, much like the WiFire technology that we looked at previously. It is basically the power that drives the heat source of the grill, precisely controlling the speed of the augur and the temperature and smoke the grill produces.
Much like a powerful engine in a car, D2 Direct Drive technology makes this grill especially powerful and able to achieve and maintain a large range of temperatures compared to your average backyard cooking appliance. Not only can this machine achieve impressively high temperatures thanks to this technology, but it can also slow-cook food at a surprisingly low temperature and maintain a consistent level of heat throughout the cook.
There aren't many grills that allow you to keep that consistent, low-and-slow cooking style but this one is great for it. It's this kind of technology that makes this grill such a versatile device. It means you'll end up spending less time waiting around for it to heat up, as well as playing the guessing game over how to cook your food.
Stainless Steel Build
When it comes to the materials used for constructing a barbecue, you can't get much better than stainless steel. Thankfully, that's exactly what Traeger has used for the Silverton 810! The stainless steel panels and covering don't rust very easily and don't show signs of damage as much as some other metals.
In fact, stainless steel is pretty much the perfect metal to use for an outdoor grill of this kind so Traeger scores big points for the construction of this one. Of course, the grill grates themselves don't use stainless steel, but rather cast iron, which is much better for their purpose.
Large Hopper Capacity
Being a wood pellet-powered grill, you might be expecting to spend a lot of time refilling the hopper every time you cook. However, the 25-pound capacity of the Silverton 810's hopper does a great job of eliminating this issue.
You can fill the hopper completely with a full standard-size 20lbs bag of wood pellets – and then some – which can easily last you for several small cooks. Not to mention, the hopper is cleverly designed with an easy-access pellet dump door.
This means that the hopper is easily emptied of its pellets for replacement or cleaning. Traeger has worked to improve this pellet dump door system through a number of iterations, and this one now has a system that is better than ever!
Powerful Grilling
One of the most important aspects of any grill is how powerful it is. After all, the other features are pretty much useless if the grill isn't powerful enough to cook your meat like a proper barbecue. Thankfully, this grill can produce an equivalent of 32,000 BTUs when it comes to energy output, which is way more than you'll need when cooking for four people, let alone a whole party.
The heat retention system does a great job of maintaining such high temperatures. Also, with a newly reworked ventilation system, smoke and air are spread out evenly through the cooking chamber.
Pros & Cons
Now that we've established what the main features are of this grill, let's go over the pros and cons I identified about it.
Pros
The Traeger Silverton 810 comes packed with many of Traeger's premium features. Overall it's a fantastic bit of kit, with a lot going for it.
Features the acclaimed WiFIRE technology, for a hands-off, remote grilling experience.
Highly capable and versatile grill that will enable you to cook a large variety of dishes.
Traeger meat probe included, for the perfect cook each and every time.
Features Traeger's trademark D2 Drive brushless motors, for durability and control.
Sturdy and durable stainless steel build.
Large hopper capacity and smart pellet dump door.
Powerful grilling experience, with high output and all the bells and whistles.
Cons
Not every grill is perfect and there are some flaws in the Silverton 810. Let's take a look at what we, and customer reviews, have highlighted as negatives to this grill:
The temperature gauge on certain devices has been reported to be somewhat inaccurate.
Limited availability, as the grill is only for sale at Costco.
The grill is pretty expensive, and its price places it firmly in the "Premium" segment of the market.
Is The Traeger Silverton 810 Worth It?
If I compare the Silverton 810 to other Traeger grills, I can conclude that it ranks about as high as it can for its price point. This doesn't mean that there aren't other options out there, but you will have to pay extra for the bonus features.
If you're looking for an alternative, the Traeger Ironwood 885 comes with a lot of similar features and benefits as the Silverton 810 but is slightly cheaper and has very similar features. The Ironwood 885 is also available on Amazon or the Traeger website.
When I compare this grill to similar ones from other brands, though, the Traeger Silverton comes out very favorably. While other brands will provide all of the basic grilling elements that you'll find with the Silverton 810, Traeger's innovative technological developments like WiFIRE and D2 Direct Drive definitely help it to stand out from the crowd.
So, yes in my humble opinion, the Traeger 810 is indeed worth it.
Where To Buy The Traeger Silverton 810?
As explained above, the Traeger Silverton 810 is a Costco-exclusive model. You can only buy it online at Costco.com or indeed in-store, at a local Costco branch.
If you're looking for an alternative, available at Amazon or on the Traeger website, check out the Ironwood 885.
Conclusion
In general, the Traeger Silverton 810 is one of the best outdoor grills you can find on the market at this price point. We're not saying it's a cheap option but it definitely represents great value for money.
Of course, the fact that it's a Costco exclusive may turn some people off. If you're looking for an alternative, the Ironwood 885 is slightly cheaper and has similar features – and is more widely available.