Cooking a ribeye roast on a Traeger grill can be a wonderful way to add a smoky flavor to this delectable cut of beef.
In this post, I will provide you with a step-by-step guide on how to cook ribeye roast on a Traeger grill based on Traeger's recommended method.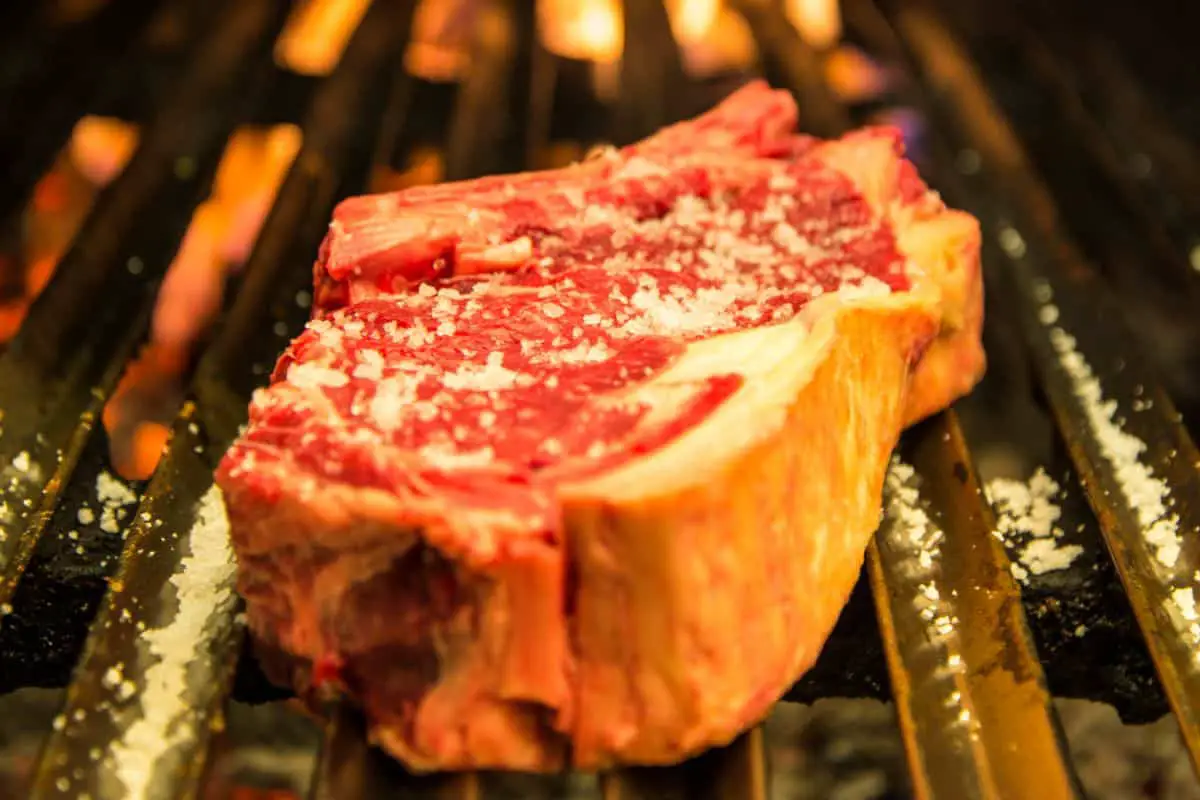 Rib-Eye Roast Ingredients
Below, you'll find a list of all the key ingredients you need to cook a rib-eye roast for 6 people.
1 rib-eye roast (4 to 6 lbs in weight).
4 tablespoons of yellow mustard.
1 clove of garlic (minced).
1 tablespoon of Worcestershire sauce.
4 sprigs of fresh thyme.
When you have all your ingredients ready, you can start to prepare and cook your rib-eye roast.
How to Cook a Ribeye Roast on A Traeger (Step-By-Step Guide)
We can now start to look at how you go about cooking the rib-eye roast on your Traeger grill. To make your life much easier, I've produced a clear and detailed set of instructions to follow to cook the meat correctly. 
Cooking Steps
Step 1
If you're ready to cook, turn your Traeger on and set it to a temperature of 250 °F. Shut the lid and preheat the grill for 15 minutes.
Step 2
During those 15 minutes, you can prepare your roast. Trim any excess fat on top of the roast down to approximately ¼-inch thick.
Step 3
Using a small bowl, mix the Worcestershire sauce, mustard, and garlic cloves. You can then cover the entirety of the roast with the mixture before then seasoning it with Traeger's Prime Rib Rub.
Step 4
Place the thyme on top of the roast.
Step 5
Once this has been done and the grill is heated, put a probe into the center of your roast, trying to avoid any bones, and place the meat on the grill grates. Then, close the lid, and smoke the roast until its internal temperature reaches your desired temperature (135 °F for rare and 145 °F for medium). 
You will need to roast the meat for 3 to 4 hours depending on how well done you want it. 
Step 6
When the roast is ready, remove it from the grill, tent it with foil, and leave it to rest for 20 minutes.
Step 7
After 20 minutes have passed, carve the roast, serve it up with your choice of sides, and enjoy!
Frequently Asked Questions
What Is a Ribeye Roast?
For those who aren't sure, let's start by looking at a rib-eye roast.
A rib-eye roast "refers to a beef rib roast that has had the 6th through to the 12th rib bones removed". This leaves behind the piece of beef's rib-eye muscle. The rib-eye roast beef is much-loved for its tenderness and impactful flavors. 
Also referred to as the Delmonico roast, this type of beef is actually quite expensive, so you'll want to make sure you cook it right. 
Those who cook with the rib-eye roast tend to use it primarily for large family gatherings and Sunday roasts due to its overall size and versatility to work with a wide range of side dishes. 
What Can You Serve with A Ribeye Roast?
Once you've cooked the perfect rib-eye roast, you're going to need something special to accompany it. 
Thanks to the rib-eye roasts' versatility, finding something to accompany it isn't too difficult, however, some things go better than others. To help you choose, we've listed some of the best things below.
Yorkshire puddings
Steak fries
Roasted Brussels sprouts and bacon
Glazed carrots
Mashed potatoes
Mushroom risotto
Creamed spinach
Mac & cheese
Mashed sweet potatoes
Roasted vegetables
Dinner rolls.
How Long Does It Take to Cook a Ribeye Roast?
Despite requiring little effort on your part, you still need to allow plenty of time to cook your rib-eye roast. 
In total, you can expect your rib-eye roast to be ready to eat after 4 hours and 15 minutes. This may seem like a long time, but only 15 minutes of that is preparation. The other 4 hours are solely cooking time. 
Giving your roast 4 hours to cook is important as this will ensure the best results, providing you with a flavorful, tender, and juicy dinner. 
How Do I Know when My Ribeye Roast Is Cooked to My Desired Temperature?
Insert the meat probe into the center of the ribeye roast and monitor the internal temperature of the roast using the Traeger grill's temperature gauge. Remove the roast from the grill once it reaches 135℉ for rare or 145℉ for medium.
Do I Need to Use Traeger Prime Rib Rub?
No, you can use any seasoning of your choice, but Traeger Prime Rib Rub is recommended for the best results.
How Do I Ensure My Ribeye Roast Is Tender and Juicy?
Let the ribeye roast rest for 20 minutes before carving and serving. This will allow the juices to redistribute throughout the meat, resulting in a tender and juicy roast.
My Final Thoughts
Cooking a rib-eye roast on your Traeger takes things up a level, providing you and your family with the perfect piece of meat for your Sunday dinner.
Flavorful, tender, and wonderfully juicy, rib-eye roasts also go nicely with a wide range of different side dishes that only enhance your dinner further.
In this post, we've shown you everything you need to know about cooking a rib-eye roast on a Traeger. 
All that's left to do now is to try it for yourself. As long as you follow our instructions and use the right ingredients, you'll be tucking into a beautiful rib-eye roast in no time.